What cute new additions will you bring home
with 50% off?
50% off ANY order while supplies last
Featured sets: Baby Face and Loads of Love
Tip: Punch out a circle in the stamped blanket, pop it up with dimensionals, then tuck the baby face down inside the circle to create a "3D" look. Our Baby Face set includes two cute baby faces that can be stamped inside not just a blanket, but also a mirror, bathtub,
flower -- even peapods to welcome twins!
New beginnings
Spring, babies, Easter... all are heart-warming symbols of new beginnings. So as we look to our own new beginnings after we close our doors at Raisin Boat, we thought it would be a perfect time to feature some stamp sets and samples that reflect this theme!
Enjoy 50% off any order by 3/22/17
with code NEW50 in the discount code/coupon box during checkout*
*Offer valid while supplies last. You must enter code NEW50 to get the 50% discount. Discount does not apply to applicable tax and shipping.
Shop now!
Take a peek at www.RaisinBoat and pick up sets that are nearest and dearest to your heart while supplies last!
Featured sets: Baby Face, Going in Circles
Tip: After stamping the pail in a light blue ink, color over it with Copic Sketch Markers for a
"no-line" color look. Use clear plastic bubbles for the 3D effect.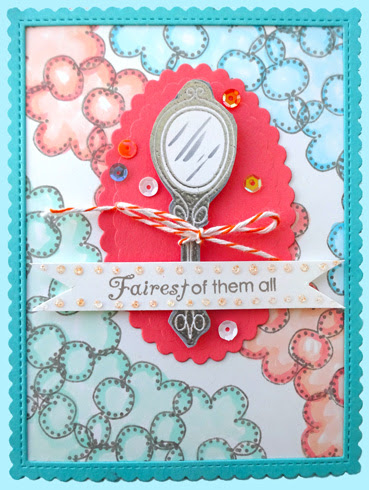 Featured set: Baby Face
Tip: Use the daisy image in our Baby Face set to make an interesting "daisy chain" design, where two petals join together to make circles.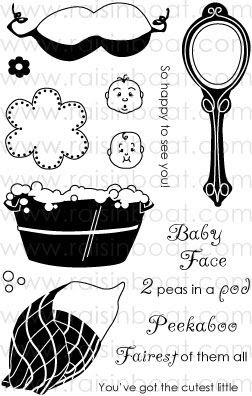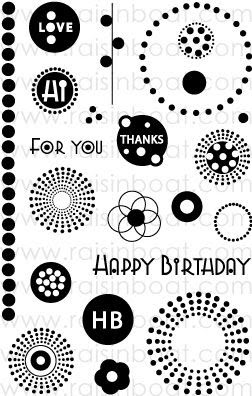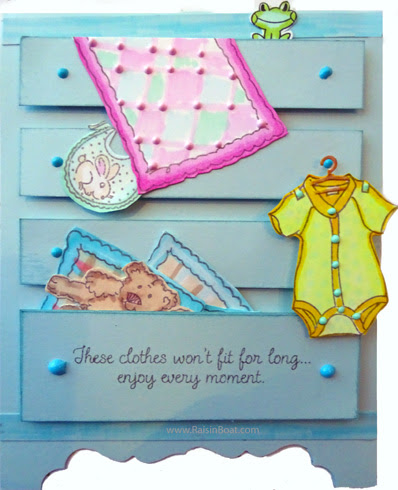 Featured set: Loads of Love
Tip: Those rectangular scraps make great dresser drawers, complete with Pearl Pen knobs. Use a paper punch to create the look of decorative legs for the dresser.
Featured set: Spring is in the Air
Tip: Layer a die-cut "wave" design in staggered positions to create interest at the top.
Creating a dropshadow helps ground the bunny.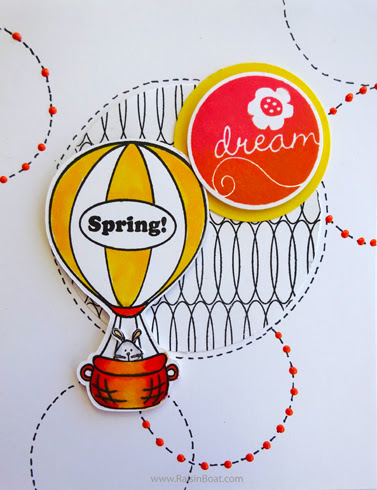 Featured sets: Spring is in the Air, Imagine, and Retro Repeat
Tip: To create perfect hand-dashed circles like shown in this sample, use any-sized circle punch to make a template to follow as you mark your lines around it.
Add Pearl Pen dots for extra accents.
Featured sets: Pretty Bird, Going in Circles, and Alpha Bold
Tip: Use paper punches and add sequins to a treat container to make the rattle.
We stamped images from our Going in Circles stamp set inside the rattle so that when the sequins fall to the bottom, there is still a design to enjoy.
Don't forget your Idea Gallery DVD of over 2,500 samples!
Also 50% off with code NEW50
Over 2,500 samples from our shows and online Idea Gallery




Prevents you from losing access to our samples once we close




Works like a CD -- just pop it into your computer or a DVD player




View or print samples to have handy while you create




Samples are labeled by the main stamp set used




Eligible for our 50% off promo with code NEW50 during checkout




Limited supply
50% off any order -- Yeah, baby!
Remember to use exact code NEW50 at www.RaisinBoat.com.
*Offer valid while supplies last. You must enter code NEW50 to get the 50% discount. We do our best to fill your entire order; however, due to the timing and quantity of orders, an item may appear to be available at the time you place your order when in fact it has already been sold out. We will notify you when this happens and refund you the difference.
Items available only while supplies last. NO refunds and NO returns or exchanges on any purchases. Cannot be combined with other discounts or applied to previous purchases.
Save
Save
Save
Save